The Takanabe IoT Conference took place at the Lecture Hall of the Takanabe Museum of Art on June 4, within the context of a practical experiment in community development through IoT, that has been carried out for over a year by the town of Takanabe in Miyazaki prefecture and Aimnext Inc. The conference brought together around 140 attendees, including officials from multiple prefectures in the island of Kyushu, representatives from SMEs, entrepreneurs, developers/engineers, academics, media, among others. The conference opened with words from Mr. Toshiyuki Kuroki, town mayor of Takanabe, and consisted of 3 sessions: a briefing about the project achievements, challenges and future prospects by Mr. Taketo Sei, CEO at Aimnext Inc.; followed by the presentation of a video analytics tool by Ms. Yukiko Suzuki, Senior Specialist at Thirdwave Corporation; and then the keynote address by Mr. Nat Sakimura, Chairman of the OpenID Foundation and research lead on digital identity and privacy at Nomura Research Institute (NRI). Outside the hall, demonstration booths were arranged where the attendees could see and touch the technology used in the experiments and see some of the collected data on the internet. After the conference, there was a guided tour of some of the experiment sites.
In his session, Mr. Sakimura mentioned how the information technologies developed over these last decades have led to the development of a virtual space parallel to the physical world; a cyber area where its members live and share, and have new wants and needs. An interconnected society not bounded by geographical borders, that keeps growing and changing very rapidly.
Takanabe is a town with an area of about 44㎢ and an estimated population of 20,000 people, in the southeastern coast of the island of Kyushu. The Takanabe-Aimnext project wants to connect the town to the cyber realm, improve the life of its residents and visitors with the use of IoT related technologies, and aspires to create a dynamic that strengthens in Takanabe some skills needed to grow and thrive sustainably in this interconnected times: the ability to adapt fast and build on shared knowledge and effort.
The experiment consisted in exploring ways of developing a platform built on leading-age technology, that would allow sensor data to be collected from anywhere within the town and, most importantly, at a cost that makes it easily accessible. The beginning had many challenges, but little by little there was more understanding about the project, more cooperation and more knowledge, and little by little a better system was developed to gather the data from those sensors in the farming fields, green houses and businesses. After a year of investigation and testing, a networking system was developed in which data like temperature, humidity, movement, CO2 concentration, etc. is collected from sensors (some of which are energy-harvesting), next this data is sent to a repeater to achieve wider range coverage, and then sent to the internet for multiple uses.
It was found that using a certain LPWAN technology, it was possible to create a network that covers the whole town area with just 8 routers set throughout the town. The experiment also made access to IoT technology possible for farmers and small business owners, and through that, it also achieved the growth of knowledge through the gathering of data that up to then had been unknown and allowed them to take more precise actions and measures for more accurate results.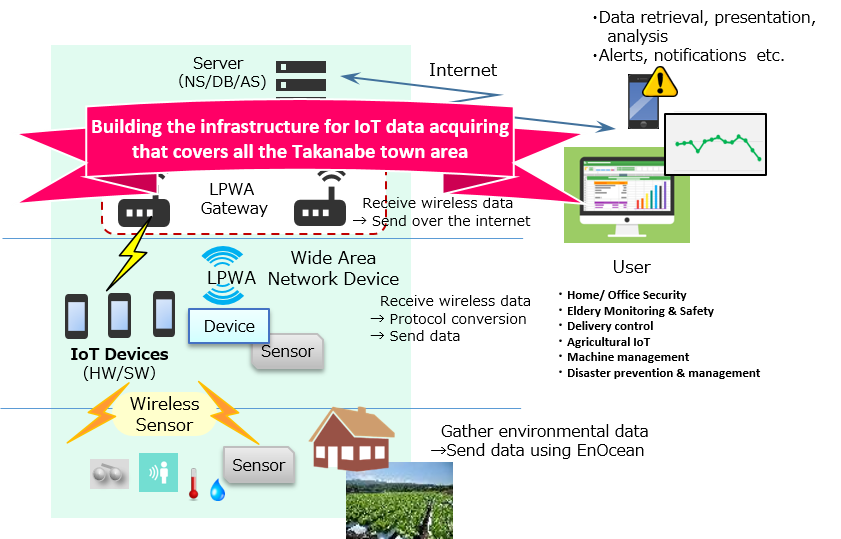 It is envisioned that this network will bring technology closer to more people who can benefit from it; that the town's small and medium IT companies will manage and develop new services, making sure that the real needs of the local people are heard and solved quickly; that, by making it one platform, more resources and efforts will be invested in cooperation rather than competition, which in turn should set the environment to finding better solutions faster; and this model would be expected to be replicated by other small to medium towns, if needed, with the support of those who have been involved in this first endeavor.
This project is a long term one, and is only starting, but all involved in this experiment have seen with joy how already many ideas and suggestions are being brought up by network users, administrators and developers, and that the ground has been set for further growth and exciting new developments.
Contact details
 AIMNEXT Inc.